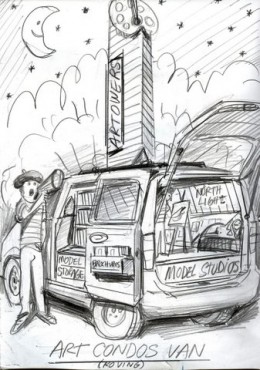 The ARTOWERS mobile model studio condo sales van will sit in the middle of one of Ottawa/Gatineau's dark (Art) holes, offering up low low cost work/live spaces for all you future *ARTSTARS*.
I'm an ideaguy/inventor, quirky mockartist, scribbler, rascal, cyber luddite and grande amateur.
I like to work on large-scale projects that reach beyond the white cube and involve non-traditional partners, patrons and audiences. My art is about things: found things, created things, transformed things. I have created thousands of works of all sizes and shapes, in different media (painting, photography, sculpture and video installations). The excess of my artistic production reflects our society's obsession with productivity for the sake of productivity and with the accumulation of goods.
I have several series of satiric 2D and 3D mixed-up-media works that mock "our" society's foibles, with edge. SUBURBIART, NAKIDART, CROSSART, MINORITYART, ARTART, BOYART, BUREAUCRATICART, FACEART, WARART, GERIATRICART and a little NICEART too. It all references prevalent cultural absurdities.