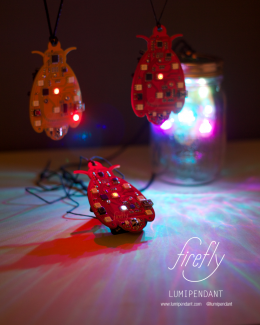 RecycleYourElectronics.ca has commissioned 250 interactive Firefly pendants made by Ottawa-based artists Mark Stephenson, Darcy Whyte, and Michael Grant. These small electronic devices will be distributed at the 'Supernova Base Camp' party, which is hosted by the Ottawa Art Gallery and the Downtown Rideau BIA, forming an exciting and social feature that will launch the 2013 event.
Mark Stephenson
As an Artist and Graphic Designer, Mark Stephenson likes to play with his interests in art, technology and the human figure. Over the last year Mark has been creating figurative works, made the HipsterMonocle and the illuminated SketchNBO badge that was part of Nuit Blanche Ottawa 2012. Mark posts about his art and projects at http://tumblr.markbstephenson.com
Michael Grant
Is a maker, a product designer and a mechatronic engineer. Michael enjoys working on projects with broad multidisciplinary aspect and creative problem solving. Michael blogs about his projects at http://krazatchu.ca/
Darcy White
Darcy Whyte is a software designer-developer who is exploring electrical and kinetic sculpture. He blogs about his adventures at InventorArtist.com and is also known for his Squirrel model plane project at Rubber-Power.com.
RecycleYourElectronics.ca is Ontario's e-waste diversion program, operated by Ontario Electronic Stewardship (OES). The website is a valuable resource for information, and enables postal code, community or item lookup for where and how to reuse or recycle out-of-use electronics in a safe and convenient manner; for Ontario businesses and consumers.
OES, a not-for-profit industry funded organization, operates and oversees the responsible reuse and recycling of end-of-life electronics through a program that includes hundreds of OES-approved collection sites and many affiliate sites across the province. OES offers a convenient, secure and no-charge way for Ontario residents and businesses to recycle electronics.
Since April 2009, more than 200,000 tonnes of electronic waste has been collected and successfully diverted from landfill across the province, greater than any other diversion program of its kind in Canada.
The program was developed with Waste Diversion Ontario, on behalf of the Ontario government, under the Waste Diversion Act 2002. The program helps protect human health, our water ways, road ways and natural environments.
OES service providers adhere to strict regulations and standards. OES monitors its network of contracted service providers—collectors, transporters and recyclers—to ensure they are held to rigorous environmental and worker health and safety standards and contractual obligations.
Ontarians are creating a cleaner environmental future by committing to managing their end-of-life electronics. To sign the pledge to divert Ontario's e-waste, view the list of items accepted by the program, or to find an approved collection site near you, visit www.RecycleYourElectronics.ca.