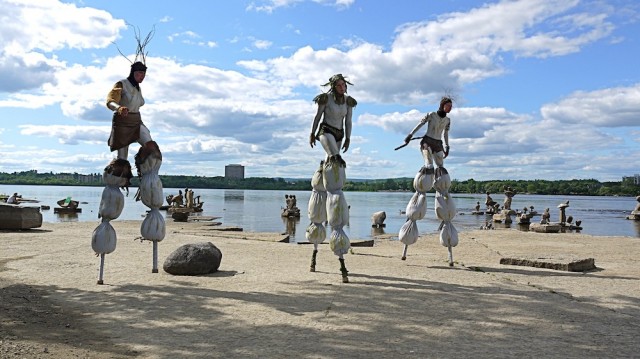 Location: ByWard Market zone
Description: It's a performance and a party, with friendly competition running long into the night. It is an adventure waiting to be lived, in which the public can play, judge, or encourage from the sidelines.
Everyone is invited to a sophisticated dinner party, featuring the excitement of genial competition in lieu of food. The artist-hosts and their guests gather graciously around a long table to anticipate the arrival of the next course. A waiter presents a tray. On the tray is a stack of cards. The cards are shuffled and one is drawn at random and read out loud. Each card represents a new activity. Everyone at the table participates in the activity. Judges award points each round for style, enthusiasm, and beauty, based entirely on their own subjective criteria. Who will emerge victorious?
The Ottawa Stilt Union is a theatre company that delights in both the spectacular and the intimate, creating site-specific works, exploring new forms of audience interaction, pushing the limits of the possible.