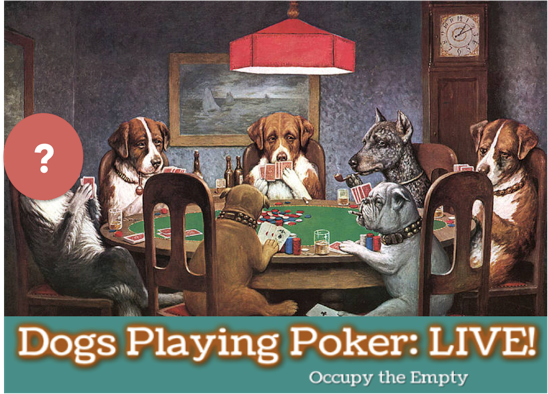 Location: ByWard zone
Description: In this interactive piece, actors will help to reenact the paintings dogs playing poker. An extra seat of honour will be open to public to build the HYPE.
The painting series of Dogs Playing Poker is instantly familiar. In this piece, we welcome the public to enter the painting and play a hand with their fellow canines. Does the lived reality of Dogs Playing Poker live up to your expectations? Are you willing to bet it all? Will you loose yourself in the play and get pulled into the game? Careful or our Feline body guard will escort you out.
Bio: We want to both entertain and involve the public, as we bring to life one of our favourite painting series. Will citizens relax into the scene and begin to focus on the card game? Or are the fellow canine companions too distracting? Will they learn the dogs bark sequence for placing bets? We shall see….
Zone: ByWard