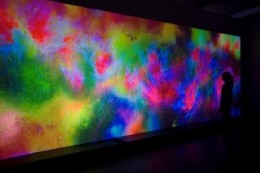 FREE – Participate in creating a "glow-in-the-dark" installation for the next Underpass Wall Exhibit.  A collaboration of artistic expression using glow paint "splattered" on canvas to the music of CKCU late night DJ Dem Tings Day.
Ottawa's Fashion, Arts & Theatre District, Downtown Rideau is abundant with trendy fashion stores, exquisite restaurants, captivating theatres and a hub of cultural activity to please fashionistas and artists alike. Located one block east of Parliament Hill, Downtown Rideau is adjacent to many landmarks and attractions including the Ottawa Convention Centre, Rideau Canal and National War Memorial.
Shop for the biggest names in fashion at Rideau Centre; The Bay, Forever 21 and Urban Outfitters, or fashion with attitude at local independents Top of the World and NormL. Rinaldo and Holtz spas help you look your best for a night out downtown.
Unwind enjoying fabulous food and views at Santé Restaurant, Metropolitain Brasserie, The Exchange, or Milestones. Sample over 150 single malt scotch whiskies at Highlander Pub or 23 bourbons at Hooch's Bourbon House. Watch the game on 95+ TVs or 27′ screen at Real Sports Bar & Grill or Indulge in a mouth-watering treat at Stubbe Chocolates.
Culture and entertainment is alive all year long with seasonal festivals and events, productions at the National Arts Centre, local theatrical at Arts Court Theatre, community theatre at Ottawa Little Theatre, art at the Ottawa Art Gallery and SAW Gallery, dancing at Ritual Nightclub or live music at Mavericks.
Stay the night in a selection of luxury and affordable hotels including the historic landmark Chateau Laurier Hotel and world class Westin Ottawa Hotel, as well as Novotel, Les Suites and Quality hotels.
Downtown Rideau, Where Culture Lives! in Ottawa.