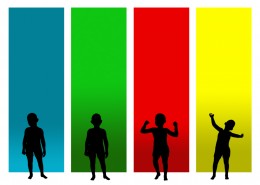 Technology is often characterized as cold and lonely, but when done right the thing we see as so un-human can actually have the opposite effect. In his work the artist Anthony Scavarelli, who completed his masters in Human-Computer Interaction at Carleton University, uses technology to explore human emotional response and attachment.
For Nuit Blanche Ottawa and Gatineau, an all night event on September 21st, Scavarelli will be presenting "Self-Reflection". The work is an experiment in affective touch, which is touch that elicits an emotional reaction or connection. In the installation audience members will touch a structure covered in soft fabric. The silhouette of a small child will react to the viewer with happiness, anger, sadness or indifference depending on how they touch the artwork.
"I have always been fascinated by the concept of an inner or forgotten child," said Scavarelli. "When we were children we had so many dreams, and into adulthood we have either done that child proud, forgotten them, or possibly failed them. By allowing a simple method for us to interact with this child in a more literal sense, I hope to build an emotional connection between the child silhouette and the viewer."
Scavarelli views this work as an experiment in self-discovery. As he questions, "Does the audience's interaction with the child silhouette possibly become a reflection of how they view themselves?"
The structure will be made with some help from Henri Kuschkowitz, who with Scavarelli forms the artistic group, the Luminartists. The group is known for developing interactive installations in public spaces that aim to visualize messages, but also draw the audience to become part of the experience. Scavarelli has a history of impressive installations throughout Ottawa (with one even going up at Art & Science Journal's summer residence – Invest Ottawa), so "Self-Reflections" will no doubt be an exciting addition to the Nuit Blanche lineup.