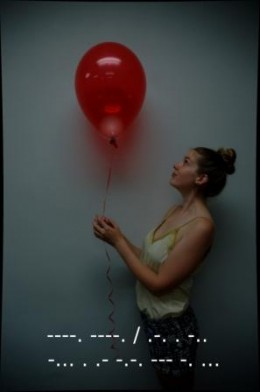 Today's widespread use of the Internet and evolving forms of digital and social media has allowed us to be constantly plugged into our various communicative devices. This dependence on the web has essentially blurred the lines between the individual and the collective. As our devices allow us to become digital beacons, we shed our anonymity and remain in constant contact with the world around us.
Where would we be without the Internet?
With many of these issues in mind, Ottawa-based artist Britta Evans-Fenton (who we have featured on our blog before) has proposed an installation/performance piece that highlights the ubiquity of digital communication and sheds light on the unusual history of the Internet. The installation will be part of this year's installment of Nuit Blanche Ottawa + Gatineau.
Britta's inspiration for this project comes from the German Cold War protest song, "99 Luftballons" by Nena. As Britta discovered in her research, the technology that has developed into the World Wide Web was originally developed through Cold War military funding. The song references the military's influence over lines of communication and comments on the paranoia and hysteria associated with war.
99 Red Beacons is a roaming installation featuring 99 blinking red balloons. Volunteers will carry the balloons around the city as they emit anonymous Morse code messages written by members of the Canadian Armed Forces. The physical presence of the balloons, gliding in the air, is likened to the image of the millions of messages that "float" through the air as they travel between phones, computers, tablets, and e-readers. In this sense, the balloons serve as a reminder of the prevalence of digital messaging, while the messages written by Canadian soldiers refer to the Internet's origins as a military-funded form of communication.
Look for 99 Red Beacons on September 21, 2013 during Nuit Blanche Ottawa + Gatineau!