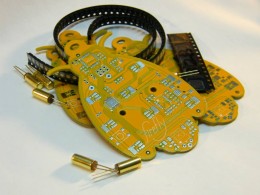 Engineers have attempted to recreate animals through man-made objects for years, whether as bird-like flying machines or fly-sized surveillance camera's (that also fly!). What about an exact replication of an animal? What if someone was to build a device mimicking a life form in shape and concept, its sole purpose being humans taking care of it to keep it alive, and not manipulating it for their own benefit? The artist's collective Lumipendant, comprised of Mark Stephenson, Michael Grant and Darcy White, have created just a device like that for this year's Nuit Blanche Ottawa + Gatineau! 'Firefly' is an Arduino-activated, firefly-shaped pendant in which participants during the festival, carry it around, allowing the device to respond to its surroundings.
Lights indicate when the bug is sick, and it is up to the participants to find 'hot spots' where they can share data to keep their little friend alive.
This social game not only engages participants with each other and new media practices, but with their own self-expression, as each firefly will project a unique pattern and light sequence, according to the level of nurturing they receive from their caregivers.
Like in biology, the survival of living things, in this case a firefly, depends on its environment and the amount of energy it receives from its nutrients. With Lumipendant's 'Firefly', the muscles and veins are exchanged for circuit boards; the energy, a signal.
The fireflies will be ready for 'adoption' September 21st, 2013 during Nuit Blanche Ottawa + Gatineau, so come down to the ByWard Market, and get ready to join in the art celebration!
(Source: artandsciencejournal.com)